Seals for Steel Strap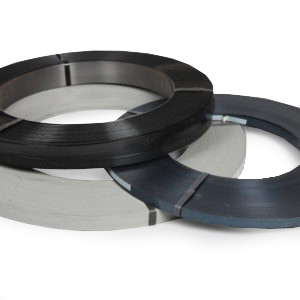 Steel Straps are essential packaging equipment for moving heavy goods and materials, but they are only half of the battle. If you are transporting especially large or unwieldy loads, you need seals to keep your straps in place. A lot can happen once your product is out the door, so don't leave anything up to chance! With SmartShield Packaging, you can get everything you need to maximize the effectiveness of your steel straps and ensure the integrity of your goods during storage and transport. No matter your needs, we've got you covered  — we offer snap on, push on, and heavy duty seals to fit the gauge of a wide-variety of steel straps. SmartShield Packaging has become the trusted distributor for all of your packaging equipment needs for a reason — order seals for your steel straps today!
Bolster the integrity of steel straps
Seals for a variety of gauges of strap – ½", ⅝", ¾", and more
Ensure the maximum hold of your steel straps
Pick the right seal – choose from snap-on, push-on, heavy-duty, and more
When it comes to shipping large products or heavy loads, it is up to you to do everything you can to secure your goods before they leave your door. Steel straps will only get you so far without the right seals — order yours from SmartShield Packaging today!
NEED A PRICE OR DIFFERENT SIZE?
Call 800-224-2109 or Contact Us
| PRODUCT # | SIZE | DESCRIPTION | UNIT |
| --- | --- | --- | --- |
| ST22121 | 1/2″ | Snap On / Open | 2500/case |
| ST31231 | 5/8″ x 1″ | Closed/ push on | 1,000 |
| ST32121 | 5/8″ | Snap On / Open | 2500/case |
| ST41491 | 3/4″ x 2″ | Heavy Duty Closed/ Push on | 2000/case |
| ST42341 | 3/4″ | Snap On / Open *most common* | 2500/case |
| ST71001 | 1-1/4″ x 2″ | Closed/ push on | 1000/case |