Steel Packaging Straps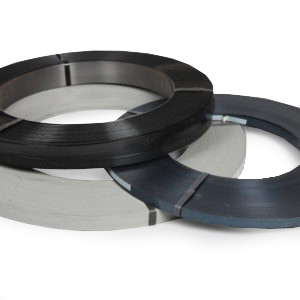 When it comes to transporting heavy materials and goods, not all packaging equipment is created equal. When you are packaging and moving an especially heavy load, trust steel strapping to get the job done. Don't take any chances, order steel straps from Smart Shield Packaging today!
When to use steel straps:
Consider steel strapping if your products or materials need to travel a long distance.
If your packaging is going to make multiple stops and be unloaded and loaded many times before reaching its destination.
If you are shipping exceptionally heavy products or materials. Steel strapping has no give and keeps your load secure.
If your packaged goods will experience drastic temperature changes during transport, avoid the adverse effects that temperature can have on plastic strapping.
When it comes to protecting your heavy and stable packaged goods, steel straps are the best way to ensure that they arrive they way you left them. Order your steel straps from Smart Shield Packaging Equipment today!
NEED A PRICE OR DIFFERENT SIZE?
Call 800-224-2109 or Contact Us
| PRODUCT # | SIZE | COLOUR | DESCRIPTION | UNIT |
| --- | --- | --- | --- | --- |
| SS22013 | 1/2″ x 0.020″ | Black | Regular Steel | 100lb/coil |
| SS32013 | 5/8″ x 0.020″ | Black | Regular Steel | 100lb/coil |
| SS32313 | 5/8″ x 0.023″ | Black | Regular Steel | 100lb/coil |
| SS42005 | 3/4″ x 0.020″ | Black | Regular Steel 100M Disp Coil |  Mini Coil |
| SS42013 | 3/4″ x 0.020″ | Black | Regular Steel (most common) | 100lb/coil |
| SS42313 | 3/4″ x 0.023″ | Black | Regular Steel | 100lb/coil |
| SS42513 | 3/4″ x 0.025″ | Black | Regular Steel | 100lb/coil |
| SS42533 | 3/4″ x 0.025 | Black | High Tensile Steel | 100lb/coil |
| SS43133 | 3/4″ x 0.031″ | Black | High Tensile Steel | 100lb/coil |
| SS73133 | 1-1/4″ x 031″ | Black | High Tensile Steel | 100lb/coil |