6 Types Of Protective Packaging
July 7, 2023
Protective packaging materials are used as a protective wrap or void fill for many applications. No matter what type of product you're shipping, if it has a void space around it, that product is at risk of being damaged or even destroyed during transit. This is what makes protective packaging void-fill so important.
In this article, we will discuss some of the more common types of protective packaging and their unique features and benefits.
Types of Protective Packaging
At SmartShield we strive to make our customers smile with packaging done right, so it's of utmost importance we assist our clients in selecting the packaging material best suited to their application.
Learn more about the different types of protective packaging and find the option that best protects your product!
1. LOOSEFILL PACKING PEANUTS
Packing peanuts, also known as foam peanuts, foam popcorn or packing noodles, are an environmentally friendly, anti-static and lightweight material for packaging.
Perfectly shaped to free flow when not compressed and interlock when compressed, loosefill is a popular packaging and cushioning material used to prevent damage to fragile packaged items during transit.
Excellent shock absorption properties.
Offer full protection while entirely surrounding your product.
Loosefill is an easy-to-use, static-free, labour-saving void filler.
Biodegradable loosefill is a cost-effective packaging solution made from 100% recyclable materials, therefore a more eco-friendly option than styrofoam packing peanuts. This starch-based material easily decomposes in water and leaves no toxic waste.
Packing peanut dispensers (loosefill hoppers) available. Mount to the ceiling or from a frame, with a rope and pulley, for easy refills and to ensure the perfect height. Pack mess free and more efficiently! Simply squeeze the valve to release the ideal amount of peanuts to fill your carton. Contact our sales team for further details.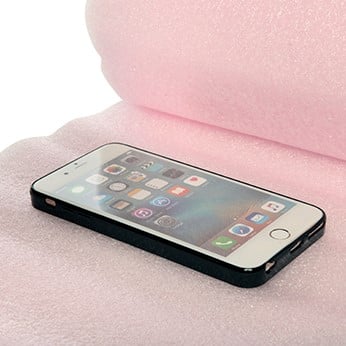 2. POLYETHYLENE FOAM
Polyethylene foam is a soft, durable, lightweight, closed-cell material. Its closed cell structure provides a protective packaging material with resistance to shock and vibration, as well as moisture and chemicals.
Foam is also a non-abrasive material, meaning it is safe to protect all surfaces from scratches and dents, including polished wood and shiny metals. When filling a void with polyethylene foam, your product won't slide around inside the box like it could with loosefill.
Polyethylene foam is a popular packaging material because of its high strength and tear resistance, and it has the ability to absorb impacts and return to form after compression; with high resilience properties, it can be stored for years in a compressed state and still return to its form.
Polyethylene foam can be used to cushion, protect and insulate items in a similar way to bubble wrap, however, while bubble wrap is a more robust cushioning offering higher impact resistance, unlike foam, it may leave marks on reflective or polished surfaces.
Polyethylene foam is generally thinner than a bubble, taking less packaging space, and allowing you to fit more items in the carton.
As foam is thin and one of the lightest protection materials available it keeps freight to a minimum, adding little or no extra costs.
Polyethylene foam is reusable, making it a popular packaging material for e-commerce companies that offer returns.
Polyethylene foam is 100% recyclable. It can be melted down and reused or remoulded for similar applications.
Custom sizing is available, and you may customize to the roll width best for your application and add perforations if desired; tearing off the perfect size sheet a convenient and labour-saving option, especially if you are wrapping many similar-sized items.
More polyethylene foam options available include; foam rolls, foam sheets, foam pouches, foam tubing, cohesive foam, adhesive foam, and most options are available with antistatic properties preventing damage caused by electrostatic discharge.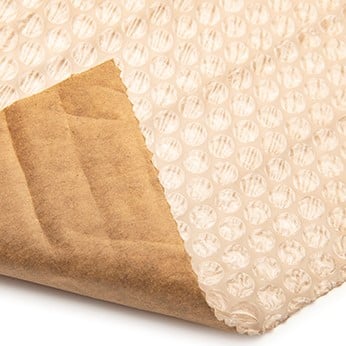 3. BUBBLE WRAP
Bubble wrap, made from flexible and durable sealed air cells, cushions and protects. It is one of the most common packaging materials, lightweight and reusable, therefore an eco-friendly and cost-saving packaging solution.
With a large cell bubble being softer than a small cell bubble, it is ideal for cushioning delicate items, and its thickness also provides a durable barrier against shock or vibration, acting as a great void filler.
Small cell bubbles can carry more weight than large cells and offer greater protection against dents, scrapes, scratches and chips.
Available in three thicknesses: 3/16", 5/16", 1/2"
Custom sizing is available; customize the roll with specific slits and perforations for your
application.
Lightweight; one of the lightest protection materials, insulators and void fillers - save on freight costs.
Reusable; great for e-commerce companies offering returns.
Versatile and durable; Cushions & protects, shock & impact absorbing, abrasion resistant, insulator, void filler.
Anti-static bubble wrap available to protect sensitive electronic components
from electrostatic discharge.
Bubble bags are made from 3/16" bubble wrap, open-ended or with peel-and-seal lip and tape for more efficiency.
Bubble wrap laminated to polyethylene foam and kraft paper options available by special order. Ideal if the texture of bubble cells may affect the component's surface.
Bubble tubing; a continuous sleeve of bubble wrap that can be cut and sealed at your desired length. Available by special order.
Cohesive bubble; sticks to itself, not to your product. Simply wrap or completely encapsulate your product and press to seal; no residue will be left behind when your item is unpacked. Ideal for making your own pouch, place your product or products on the bubble and press the sides to form the desired package size. Available by special order.
4. AIR PILLOW
Air pillow systems are a popular alternative to bubble wrap, loosefill packing peanuts and crumpled paper packaging, especially for businesses with limited storage for packaging products, as the inflatable material comes in flat rolls.
These compact inflatable packaging machines are cost-effective, fast, and quiet. Producing reliable air cushions used to line cartons or crates, wrap or separate components, or as void fill.
Inflatable air systems produce a variety of sizes and designs of air pillows to cushion and protect products in cartons or crates.
Protective packaging designs include: Pillows, Bubble, Cushion and Quilt.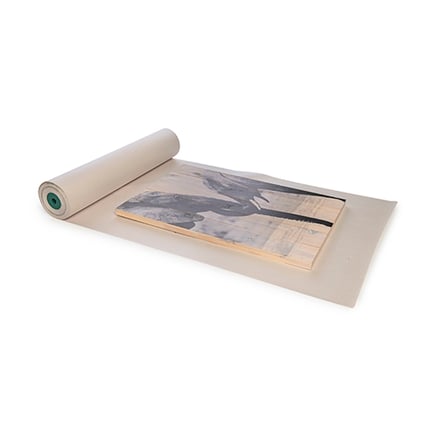 5. PAPER PACKAGING MATERIALS
Paper packaging is commonly used as an economical void filler where voids are too large to be filled with loosefill.
Newsprint is available in both rolls and sheets, its thickness offering a greater level of protection than tissue paper. Newsprint is a smooth, white, recycled, inexpensive paper, not only used for printing newspapers and other mass publications. In the packaging industry, newsprint rolls and sheets are used to wrap items for shipment or storage, line trays or separate grouped items, and crumpled as void-filler in cartons.
Kraft paper is a more robust option than newsprint; recycled kraft paper is a more environmentally friendly option than virgin kraft paper. However, virgin kraft is sometimes required when a smoother finish or superior tear strength is required. Recycled kraft paper is 100% recycled, therefore environmentally friendly, low-cost, all-purpose packaging material. Lightweight but sturdy enough for industrial and commercial uses, including void fill for cushioning, wrapping for surface protection from scrapes and scratches, or even layering between palletized items.
VCI paper is made from high-quality kraft paper saturated with vapour corrosion inhibitor chemistry; it is designed to protect metal components in enclosed spaces or packages from rust by slowly releasing a corrosion-protective compound into the air. VCI kraft paper is used as an alternative to petroleum-based rust preventatives, the chemicals saturated into the paper produce invisible barriers to prevent moisture, oxygen and other corrosive elements from attacking metal surfaces that would otherwise cause rust or corrosion. VCI paper is a clean rust preventative option and reduces labour, as no degreasing cleaning is required after unpacking, before the item can be used. VCI packaging is available in a variety of paper or plastic packaging materials.
Paper packaging void fill systems are a cost-effective and environmentally friendly recycled paper packaging option, offering void fill, and blocking and bracing protection. Machines are reliable and, simple and safe to use. When shipping multiple items in a single box, these materials can be used to prevent the parts from damaging each other by keeping them separate. Paper void fill is ideal for irregularly shaped or sharp-edged products, as it can be ripped or torn without losing its cushioning and protection as inflatable void fill would.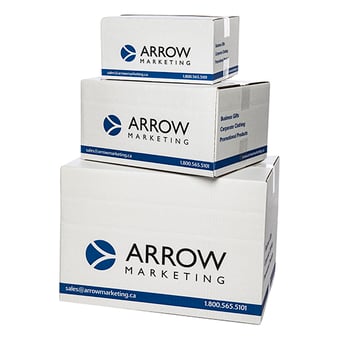 6.
CORRUGATED CARTONS
Corrugated cartons or boxes are available in single-wall, double-wall and triple-wall materials, in various styles, in standard stock sizes or custom designed. The perfect size box is just slightly bigger than your item being shipped, just enough to accommodate some protective material to prevent your product from getting damaged during storage or transportation, but as small as you can work with to keep shipping costs to a minimum.
Used widely for shipping in the e-commerce industry.
Multi-depth cartons available – with creases at intervals; just cut the box to your desired height, save on shipping costs and inventory space.
Available in Kraft and Oyster (White).
Each type of box is available for custom printing, offering advertising opportunities.
Get Packaging Done Right
Selecting the right protective packaging material is crucial for ensuring the safe transportation of your products. The various types of protective packaging discussed in this article offer unique features and benefits to cater to different packaging needs.
Our Custom Packaging Specialists can help you find the right protective packaging material to ensure your products are well-protected during transit, ultimately leading to customer satisfaction and a positive business experience.
Article written by SmartShield