Understanding Heat Shrink Equipment And Materials
September 15, 2023
At SmartShield we offer a range of heat seal and shrink equipment and materials, and we are always happy to assist you in selecting the right products for the ultimate heat shrink operation, let us share some of the options with you here;
Heavy Duty Shrink Wrapping Applications:
Polyethylene Shrink Film (Polyethylene rolls, sheets, pallet top covers and bags)
Shrink film is often confused with stretch wrap also known as stretch film or pallet wrap, however, they have very different properties. While shrink films must be applied with heat, stretch wrap has elastic memory properties and clings to itself, leaving no residue behind, and is applied with a dispenser or pallet wrapping machine.
Heat shrinking your product has major benefits over pallet stretch wrapping, pallet stretch wrap quickly breaks down, especially if given time in elements such as rain, snow, or extreme sunshine.
Polyethylene shrink film materials are very robust and durable, a pallet that has been shrink wrapped can be tilted on a 45-degree angle and the product will stay in place. If that happens with a stretch-wrapped pallet, the load would most likely fall off.
As an example: if you shrink wrap 6-mil polyethylene around your product, that is the equivalent of wrapping 12 times with a 50g stretch-wrap.
When selecting the correct shrink film, it is important to know how long your product will be wrapped and what environments it will be subjected to during transportation or storage. The film can be manufactured to customer specifications if your application requires specialty material.
Polyethylene shrink material used with propane operated heat shrink guns is designed for shrink wrapping heavier or larger, commercial items and for industrial applications. Though it is more expensive than both PVC and polyolefin shrink film, it is also substantially thicker and tougher, available in rolls, sheeting, pallet covers and bags for cost effective, heavy duty wrapping.
To give you an idea how much stronger polyethylene materials are, polyolefin and PVC are available in a maximum thickness of about 100guage while polyethylene has a maximum of up to 1200gauge.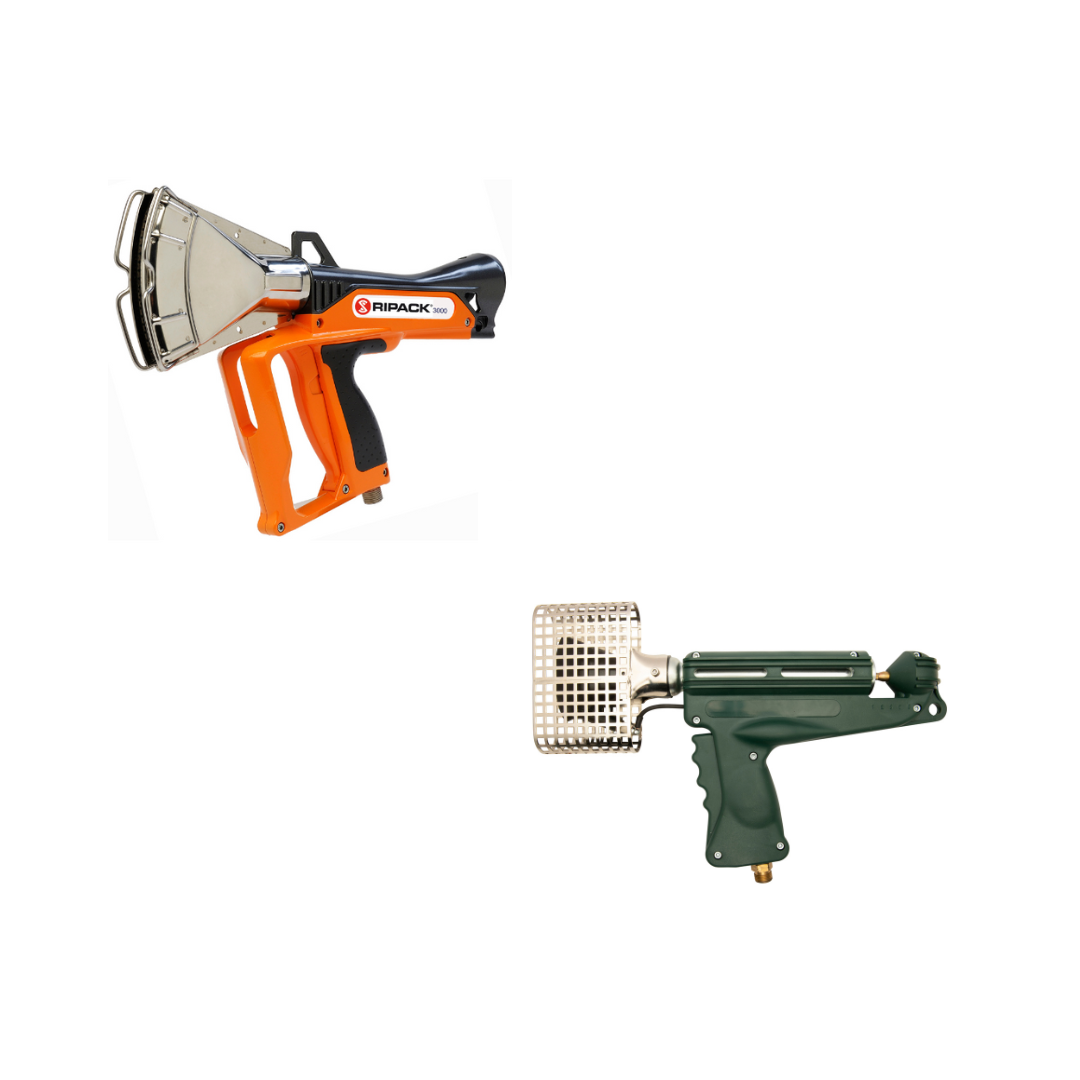 Propane Operated Heat Shrink Guns
At Smartshield, propane operated heat shrink guns are available from stock with two options to choose from.
The Shrinkit Gun is a fantastic choice for regular to heavy duty applications, it is a lightweight, durable, and cost-effective tool.
There is also the popular Ripack Gun which is a slightly heavier duty gun, more suitable for the larger volume users and heavy to extra heavy-duty applications.
Propane operated heat guns have easy to operate single trigger handles, they are ideal for indoor and outdoor use, including manufacturing, transport & logistics, construction sites and more.
Pallets wrapped this way are protected from damage from weather and loss of products during transportation, it is a very secure packaging option reducing tampering and pilferage as it is not easy to re-wrap.
Heavy duty, industrial polyethylene materials paired with a propane heat shrink gun are used in the following applications:
Protection for heavy duty equipment.
Stabilizing product on pallets.
Wrapping irregular shape items.
Protection from dust and dirt.
Protection from UV and weather including wind, rain, and snow.
Keeps product in factory condition.
Immediately identify damage or theft.
Protect items during transit or storage.
Easy product identification. (When using clear film)
Winterizing boats.
Containment during construction.
Bundling multiple items or packages together.
SmartShield offers a trial process where you can wrap several pallets with shrink-film using our equipment, only paying for the film you use while experimenting.
You will notice a vast difference in not only the protection of your product, but also its appearance. The finished surface is perfect for adhering labels to, or if you prefer writing the instructions with a black marker it couldn't be easier, and it will stand out clearly for all to read.
Learn more about propane operated heat shrink guns and see for yourself the benefits of using this fantastic packaging method. Click on the video demonstration and see the advantages and possibilities.
Light Duty Shrink Wrapping Applications:
Polyolefin and PVC Shrinkfilm
Polyolefin and PVC (poly vinyl chloride) shrink films are for light duty shrink wrapping applications including packaging of candies, foods, medical equipment, books, magazines, dvd's, toys for retail stores and more.
Packages wrapped in thinner shrink films like polyolefin and PVC are not waterproof but the product is protected from moisture, dust, dirt and tampering.
Cardboard boxes containing toys or games in retail stores are often shrink wrapped to avoid loss of pieces or damage, books and magazines may be shrink wrapped to prevent children reading inappropriate content.
Foods, medical equipment and aerospace components may be sealed in shrink wrap where sterilization protection is important. It is also convenient for bundling lightweight products into one package, for example in retail stores when multiple boxes of product are sold together.
Benefits of shrink wrapping your product include:
Keeps product in factory condition.
Immediately identify damage or theft.
Protects items during transit or storage.
Easy product identification.
Bundling multiple items or packages.
Prevents loss of product.
What is the difference between PVC and Polyolefin Shrink film?
Polyolefin is generally more expensive than PVC however, PVC releases a strong smell and harmful fumes during sealing, and the heating and shrinking process, meaning it requires ventilation during application. Due to this PVC has been banned in some countries.
PVC was the most commonly used shrink film for non-edible items until polyolefin shrink film became available, today polyolefin is generally considered a safe replacement for PVC as it does not contain chlorine and, therefore does not produce hydrogen chloride gases when heated. Polyolefin is FDA approved allowing it to be used with food.
Polyolefin does not contain plasticizers and is therefore unaffected by temperature change during storage. It has higher heat resistance and greater puncture resistance than PVC, therefore it's stronger seal is better suited to packages that include multiple items banded together.
PVC is more tear-resistant than polyolefin.
Polyolefin is manufactured with longer rolls lengths than PVC allowing for fewer roll changes and therefore increased productivity.
I-Bar & L-Bar Heat Sealers & Electric Heat Shrink Gun Systems
I-Bar and L-Bar heat sealers, also known as shrink wrap sealers, are designed to be used with polyolefin or PVC shrink film to seal and cut the material. To complete the package typically an electronic heat shrink gun is used to shrink wrap the film tightly around the item or items. Bar sealers are simple to use and provide a consistent looking package every time.
The difference between I-Bar and L-bar sealers is I-Bar sealers seal just one side of the material at a time, while an L-bar sealer seals on 2 sides. L-Bar sealers would be used with shrink film on a roll or shrink bags, cutting the material to the perfect length and width in one action.
These tools are designed for lower volumes of packages and inconsistent shapes and sizes, if you are shrink wrapping hundreds of packages per day we would recommend a more automated solution: shrink machines.
Heat Seal & Shrink Machines
Shrink machines are used with polyolefin and PVC shrink film, their high performance offers increased productivity combined with a more professionally packaged product. Instead of taking a few minutes to seal the film around your product with a sealer, and then shrinking the film with a heat gun, place it in the shrink machine oven for just seconds.
Providing a high quality seal and a consistent amount of shrink, these compact and mobile machines are designed to guarantee ease of use and maintenance.
Contact our sales team for more details on heat seal and shrink machines.
Customize your shrink film.
Polyolefin and PVC shrink film or polyethylene rolls, sheeting or covers can be tinted (coloured) to your company colour and, if there is sufficient volume, it can also be printed with your company name, logo, brand or message.
Learn more about our custom packaging solutions.
Article written by SmartShield